Dash Heating & Cooling
Monday, 25 August 2014 15:07
Hoyt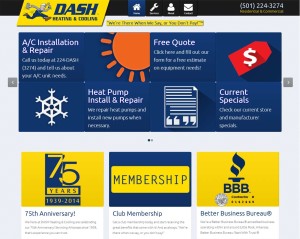 A full-service heating and air conditioning company based in Little Rock and serving central Arkansas since 1939, Dash Heating & Cooling earned their reputation for high quality work over 75 years ago. With a 100% satisfaction guarantee and their signature
"We're There When We Say.. Or You Don't Pay" policy Dash continues to lead in their market  by focusing on high quality service at competitive prices.
Maintaining a great reputation in the world today is a little more complex than it used to be. Nowadays, word of mouth travels via social networks. And company reviews, both good and bad, live  forever online.  These modern problems require modern solutions. Which is why Dash chose Jackpot Interactive as the best choice for all of the challenges Dash faces online. In August 2014 the new dashservice.com went online and our fully managed web and social media services began.
At Jackpot, we've provide small businesses like Dash a complete turn-key website solution that address all of the critical issues that every small business faces online.  A proposition that Dash and all of our clients find simply irresistible.
The reason small business owners love our web design  and social media services so much, is because we designed these services to bring a "best practice" approach, focused on bottom line results, at a very competitive price.  The bottom line is, our clients  win new business and develop competitive advantages online while protecting their online reputations and growing their social reach. It's How the Web is Won, and it's only from Jackpot Interactive.
Your small business can win online too! Let us show you how. Contact us online or call 501-247-1009 for a free consultation.