Dr. Beverly Foster
Thursday, 12 December 2013 01:06
Hoyt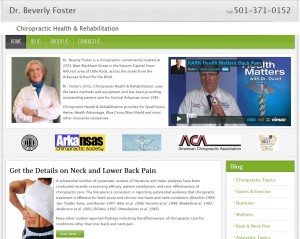 Dr. Foster has practiced chiropractic care in Little Rock for 27 years. In that time she has become widely known for her integrity, and her dedication to service and results for her patients.
Dr. Foster understands how important is for her clinic to have a well run and effective online presence. She selected Jackpot Interactive because we know it takes more than a great website to succeed online and that's why we bundle a winning combination of web design and social media services.
To help Dr. Foster succeed online, we developed a clean and modern interface that includes a responsive interface that automatically adjusts the website layout for computers, tablets and smart phones. This means Dr. Foster's website looks and works great on computers and mobile devices alike.
The new drbevfoster.com went online and went to work for Dr. Foster's Chiropractic Health & Rehabilitation clinic in December 2013.
Does your business need a website makeover? Be sure to include Jackpot in your list of potential vendors. Contact us online or call 501-247-1009 for a no cost and no obligation quote.