First National Title Company
Wednesday, 09 October 2013 22:18
Hoyt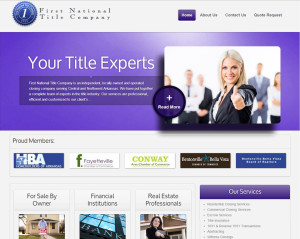 When Arkansas's largest independent title agency FNTC found themselves in need of a website update they turned to Arkansas's most effective web and social media company.
With five offices in central and northwest Arkansas, FNTC provides escrow services, title insurance, abstracting, real estate closing services and more for commercial and residential clients.
Understanding that a strong web presence is critical in today's competitive marketplace, company founder Jim Pender engaged Jackpot with the challenge to update the company's web presence and address the ongoing challenges of managing it all.
We've designed our service offering to deliver exactly what Jim demands. Jackpot's "fully managed web solution" means Jim can focus on running his business with the full support of an experienced, results oriented web team.
The new Jackpot powered website firstnationaltitle.net launched in September 2013 and began driving new business inquiries the very next day!
Are you in the market for a website? We'd love to hear from you. Contact us online or call 501-247-1009 for a no cost no obligation quote.