Gary Houston Electric chooses Jackpot.
Sunday, 06 January 2013 15:21
Hoyt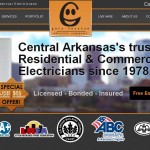 Since 1978, Little Rock's Gary Houston Electric has served the central Arkansas area providing residential and commercial electrical and related services. By focusing on quality and customer satisfaction, GHE has earned a reputation for excellence. Protecting that hard won reputation online is very important, and that's a big reason why GHE chose Jackpot Interactive to develop and manage the GHE online presence.
The management team at GHE understood the challenges they faced online. They knew the future of the company depended on having a solid, well maintained online presence. So they set out to find a solution that not only got them online, but maintained the ongoing complexities that come with the territory.
Jackpot's Royal Flush solution turned out to be the turn key website solution GHE was looking for, and in January 2013, the new Gary Houston Electric website was launched. Within days, new business inquiries began coming in. The management team is thrilled with the new site, and resting assured that the site will is being professionally maintained by Jackpot Interactive.