Glover's Truck Center gets a heavy duty website and whole lot more.
Thursday, 06 June 2013 16:39
Hoyt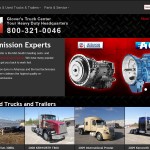 Glover's Truck Center, North Little Rock's heavy duty truck experts, recently found themselves in need of a website makeover.
Like most small businesses, the web has proven to play valuable role in the business, but comes with a number of organizational challenges.
When the management teamed learned of Jackpot's fully managed approach they knew they had found a solution to the business challenges that come with a website.
At Jackpot we recognize how important the interactive channel is to small business so we set out to develop the products & services  needed to make the interactive channel pay off. What we created is a  blend of enablers and services based on industry best practices and proven to deliver result.
For Glover's it means a great new website and online presence that's aligned with the goals of the business. But more importantly Glover's online presence is alive and growing with regularly updated unique content, advertising, optimization and social networking all managed to stay in line with the business goals.
At Jackpot we do things differently than most. We look beyond building the website and address the ongoing challenges that come after the site goes live.
Are you ready to declare your interactive presence a success? Contact us and we'll help you make it happen.