Jackpot enables Cabot music teacher to expand globally.
Wednesday, 15 May 2013 21:16
Hoyt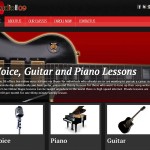 Offering voice, guitar, and piano instruction in Cabot Arkansas since 2007,
Lasa Robertson Portillo's Studio 09 provides both group and private lessons from beginner to advanced.
Lasa has a bold vision to take Studio 09 global by leveraging the internet to teach music around the world.
Lasa's bold idea goes further than canned instructional videos. She offers live private  lessons via Skype.
In April 2013, Lasa turned to Jackpot to help her achieve her goals online, and she was not disappointed.
"Impressive from the beginning and every step of the way since."
Lasa understands the importance of her online presence and the new business opportunities that the internet has to offer. With Jackpot, studio09online.com is fully enabled, allowing Lasa focus on teaching music and growing her business.
Our solutions enable small business to compete in the global marketplace and be successful. We don't employ high pressure sales tactics. Contact us, and we'll answer all your questions. Including pricing. With no further obligation or expectations.