John K Carr Realty
Wednesday, 25 June 2014 12:25
Hoyt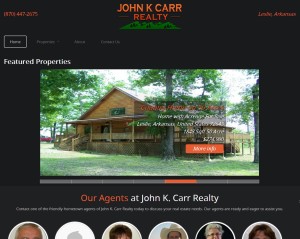 Ozark area broker John K. Carr runs a full service Real Estate Company from Leslie Arkansas serving Searcy County and all of the surrounding counties including Stone, Baxter, Marion, Boone, and Van Buren.
With a special focus on real estate investment opportunities including farm land, timberland or recreational land; John knows full well that his web presence is mission critical for his agency. So when John recently discovered that his web site had fallen off in the search rankings, he turned to Jackpot Interactive for help.
At Jackpot, search optimization is a key component of our best practice website solution. For the John K Carr Realty website we started from the ground up, identifying the most important keyphrases for the business, the biggest opportunities to improve, and the existing strongholds that need to be preserved.
With the keyword strategy defined, we simplified the navigation and page structure and overhauled the website look and feel. Then we tested a number of different back-office listing management tools to identify the best fit for the agency.
The new johnkcarr-realty.com website launched in June 2014 includes a host of new features for website visitors as well as the agents. The entire team at John K Carr is pleased with the results and excited about the new tools at their disposal.
We are excited to include John K Carr Realty to our portfolio and look forward to helping John and his team achieve their goals online.
Are you frustrated with your company's results online? Take control of your online presence with a proven web solution for small business. Call 501-247-1009 or contact us online for a free consultation.