Lake Liquor
Thursday, 13 March 2014 22:56
Hoyt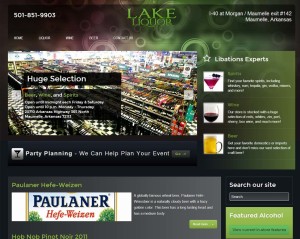 A family business in Maumelle since 1966, Lake Liquor has grown from a single room liquor store to a nearly 10,000 square foot super-store. In addition to carrying all the major brands, Lake Liquor also boasts a full selection of fine wines, craft beers, and specialty spirits. Plus, they employ a full staff of experts on the floor at all times to help customers find everything they need.
In January 2014, the management team began searching for a solution to the challenges they faced with the company's online presence. They selected Jackpot's web and social media services, because our services directly address the problems small businesses face online with a proactive and results-oriented approach.
At Jackpot, we start by identifying how the web site can help the business achieve their goals, such as winning new business or engaging existing customers. Then, we tailor an entire program to deliver on those business goals.
The first major milestone is always the release of the newly designed website. In March 2014, we released the new lakeliquorar.com website. Now, with the first step for succeeding online complete, we turn our attention to the ongoing activities required to grow and promote a website successfully.
We are proud to add Lake Liquor to our portfolio of success stories and we look forward working together with them for years to come.
Take control of your online presence with our proven web solution for small business. Call 501-247-1009 or contact us online for a free consultation.