Maple Leaf Awning and Canvas
Monday, 13 January 2014 05:55
Hoyt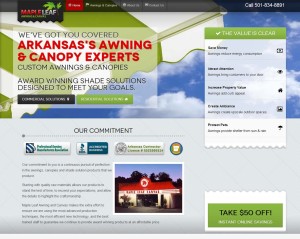 For over 26 years, Maple Leaf Awning & Canvas has served businesses and homeowners all across central Arkansas. A five time international award winner with numerous other national and regional recognitions, MLAC understands the importance of a solid reputation and the highest quality of work.
Like most small businesses, MLAC recognizes that the online channel will only continue to grow in importance for their business. Being successful online is critically important and the company faces a number of significant challenges. That's why Maple Leaf chose Jackpot Interactive to build, promote, and manage the Maple Leaf website and online social spaces.
Jackpot's services start with a great website and finish with all the ongoing activities required to grow, promote, and continually improve results. Jackpot's web and social media services are the perfect solution to Maple Leaf's online challenges.
MLAC's Jackpot powered website mapleleafcanvas.com launched late in December 2013 and delivered new business inquiries almost immediately.
Contact us online or call 501-247-1009 today, because your online program is critical to the future of your business.