Mountain Pure
Sunday, 01 September 2013 00:51
Hoyt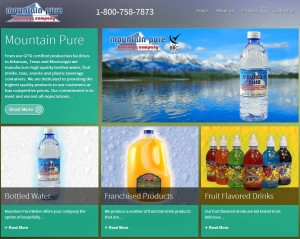 Mountain Pure Beverage Company headquartered in Little Rock with bottling facilities in Arkansas, Texas, and Mississippi supplies wholesale distributors and retail companies with bottled water and a variety of other beverages.
In 2013, the company began development of an exciting new product line and they found themselves with a new set of challenges online. Launching a new product in this day and age requires a strong interactive strategy.
The folks at Mountain Pure found Jackpot's comprehensive set of interactive services to be the perfect solution to the challenges they faced online.
An upgrade to the company's website including a new architecture that allows for the rapid deployment of new product pages has positioned Mountain Pure for many successful product launches in the years to come.
Meanwhile new business inquiries are already coming in. The new Mountain Pure Beverage website is an asset paying dividends.
If you are looking for a solution to the challenges you face online contact us online or call 501-247-1009 for a free consultation.