National Custom Hollow Metal
Friday, 10 January 2014 15:46
Hoyt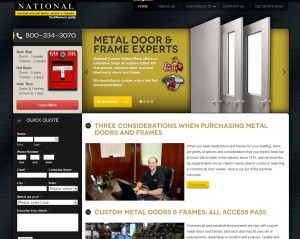 National Custom Hollow Metal in Little Rock manufactures custom metal doors and door frames for projects across the USA. Serving existing customers and winning new customers across the country is mission critical for NCHM.
The company's online presence is central to achieving their goals. Management recognizes that the company needs help not just in building a website, but also in leveraging the online channel effectively and efficiently. In October 2013 NCHM chose Jackpot Interactive as their web and social media provider.
Jackpot's service offering is designed to deliver a great website followed by ongoing growth, promotion, and continuous improvement. Our "fully managed web solution" delivers NCHM online success by leveraging industry best practices and methods proven to deliver results.
NCHM's Jackpot powered website nationalcustomhollowmetal.com launched December 2013 and began driving new business inquiries within a week!
Does your company need a strong web team to help drive your business goals to success? Contact us online or call 501-247-1009 for a no cost, no obligation, no nonsense consultation.