Expert Blackjack player and author of Ask Dr. BlackJack doubles down with Jackpot Interactive!
Sunday, 07 April 2013 15:13
Hoyt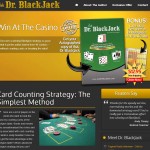 When it comes to the game of Blackjack, you'd be hard pressed to find a bigger expert than Little Rock's own Jeff Duncan. Accomplished first in business, Jeff used his business experiences and a business minded approach to help him conquer the game of Blackjack. And conquer it he did!

After years of study and tireless documentation of real world play, Jeff developed a method that actually gave him a statistical advantage over the house. Although his advantage is not huge, it is big enough to put few bucks in his pocket and get the attention of a few pit bosses.
In 2011, Jeff decided to chronicle some of his more memorable experiences, like being barred from 46 casinos, and detail his winning Blackjack methods in a book titled Ask Dr. Blackjack under the pen name Sam Barrington. The book has been very well received by readers and players alike and was picked up by a national publisher in 2012.
With book sales on the rise Jeff found himself in need of a web presence. And he was wise enough to know that building a website is just the first step in succeeding online. What happens after the site is launched is what matters the most.  That's why Jeff chose Jackpot to build and manage his website askdrblackjack.com.
Jackpot Interactive's fully managed approach means Jeff can rest assured that his website is being promoted, updated, and improved upon all the time. We offer the most comprehensive bottom line boosting web and social media small business solution available anywhere. Contact us for a no cost,  no obligation,  no nonsense consultation.