R & N Hydraulics enjoys the Royal Flush treatment
Tuesday, 12 February 2013 10:13
Hoyt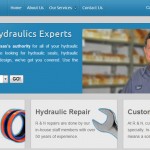 When it comes to hydraulic systems, no other company in the state can top the expertise of R & N Hydraulics in Bryant, Arkansas. Founded in 1979, R & N provides repair and design services and stocks a huge supply of hydraulic seals and components. When Arkansas's hydraulics experts needed help with their online presence, they turned to Jackpot Interactive.
The executive team at R & N understands that it takes more than just a website to succeed online. The ongoing promotion and maintenance of the website is critical to achieving business goals. Jackpot's services focus heavily on these same ongoing needs, so the choice was clear. R & N contracted Jackpot in January 2013 to develop and maintain their online presence, and in February 2013, their new website was launched.
New business inquiries have already started flowing in from the website. R&N is now poised to dominate their niche online just as strongly as they dominate hydraulics in Arkansas.