R & N Hydraulics
Friday, 29 August 2014 13:20
Hoyt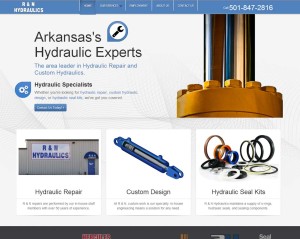 Keeping a website fresh and up-to-date is very important in today's fast moving world. For our client R&N Hydraulics in Bryant, Arkansas, keeping things fresh and new has never been easier.
We launched R&N's first Jackpot Interactive website in February 2013. Since that time, a number of new challenges have arisen for the company's online presence, including a big jump in mobile devices visiting the site.
There have been some significant advancements in mobile friendly website technology since the previous R&N website was launched. Now, we have more capabilities than ever before to create dynamic, responsive web designs that can provide a full and rich website experience – no matter what device people choose to use.
Armed with these new capabilities and compelling website usage data indicating a serious need for change, the Jackpot team sprang into action.
The first step was to make R&N management aware of the problem, and then to provide a reasonable and cost effective solution. Fortunately, we architect every website we build in anticipation of future advancements. Much to the delight of R&N, we already had the framework in place to enable a painless and inexpensive upgrade path.
With a fresh look with a whole new level of mobile friendly features built right in, the new RNHyd.com website was launched in August 2014. Needless to say, R&N is delighted with the result.
Our proactive website management philosophy means our clients don't get blindsided with unforeseen issues or face expensive break-fix dilemmas. Are you ready to work with Arkansas' most proactive and most effective web and social media company? Call 501-247-1009 or contact us online to get started.