Regional Industrial Tool Supplier Wins Online
Monday, 25 June 2012 17:27
Hoyt
Jackpot Interactive's first customer goes online in 19 days
For Air Power, Inc. of Little Rock and Tulsa, the time had come for an online face-lift. They consulted their trusted IT support company at
Total Tech of Arkansas
, who recommended Jackpot Interactive for the job.[/dropcap]We quickly identified the most effective online strategy for Air Power, and began the information design phase of the project. Less than a week later, we presented wire-frame designs to illustrate how the final website would function.
After the information design was in place, we moved on to the visual look and feel of the website. We developed 3 alternatives for the folks at API to choose from. While they were impressed with each design, they ultimately selected the "Carbon Fiber" look.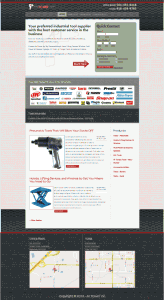 With the design chosen, and additional feedback given, we completed the development of website and authored all of the content within it over the next five days. The brand new website went live on Friday, June 22, 2012.

.