The Bug Man
Saturday, 22 June 2013 01:05
Hoyt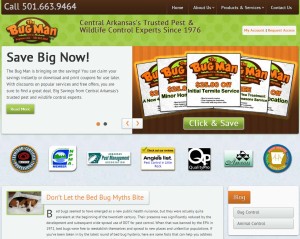 Since 1976, The Bug Man, Inc. has served Arkansas with pest & wildlife control services. Well known for their professionalism and outstanding customer service, the folks at The Bug Man work hard to maintain their great reputation.
Maintaining a good reputation includes maintaining your online reputation too.  This means having a modern and well maintained web and social media presence. So when it was time to upgrade BugMan.com, Jackpot's small business web and social media solution was the best choice for The Bug Man.
The result is a fresh look and feel for the website that encourages visitors to become customers with several strong calls to action. Social media and search advertising drive traffic to the site and requests services now come in regularly.
The Bug Man's shining reputation and Jackpot's turnkey interactive services are a winning combination.
If you're looking to better leverage your brand  image online, contact us online or call 501-247-1009 for a no obligation consultation.