Townley Pool & Spa
Tuesday, 05 August 2014 16:57
Hoyt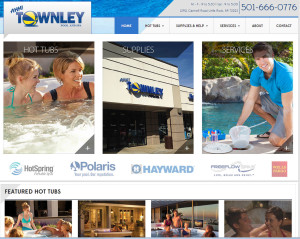 Well known for their "Ahh! Townley" slogan, Townley Pool and Spa provides pool care products & services as well as an impressive line of hot tubs. More than just a slogan, Townley has earned a reputation for high quality products and a complete dedication to customer service. Towney serves all of central Arkansas from their West Little Rock location with a pool supply store and a gorgeous showroom featuring the latest hot tubs and hot tub accessories.
The management team at Townley was seeking to build a stronger and more effective web presence and address the growing complexity of the online channel. As an early adopter on the web, Townley has experienced first hand both the benefits and challenges that come from working with web design agencies. And that's why Townley found Jackpot Interactive's turn-key web solution so appealing.
Here at Jackpot, we take a very different approach to the challenges that small businesses face online. We have created a suite of services that get right to the heart of those problems and deliver the results small businesses are looking for. Our clients win new business and develop competitive advantages online while protecting their online reputation and growing their social reach.
The folks at Townley recognize the value proposition of our unique approach, and in August 2014 the new townleypoolandspa.com went online and our ongoing promotion and managemnet services began. We look forward to a long and successful relationship with Townley Pool and Spa.
Chances are, we can help your business online as well. Contact us online or call 501-247-1009 to learn more about our fully managed web and social media services.