VFW Post 9095
Sunday, 01 September 2013 00:15
Hoyt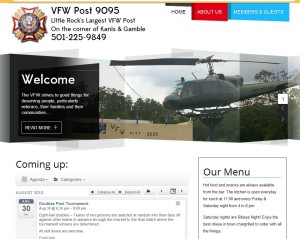 The Veterans of Foreign Wars mission is to "honor the dead by helping the living" through veterans' service, community service, national security, and a strong national defense.
VFW Post 9095 in Little Rock was one of the very first VFW posts to have a website back when the web was new. The technology has come a long way since those humble beginnings, and in mid 2013, they found themselves in need of an upgrade.
The process to update the old site was tedious to say the least. Clunky FTP uploads and HTML editors where required to keep the site up to date. Often it was just too much to deal with and the site slowly fell dormant.
Here at Jackpot, we love hanging out at VFW Post 9095 for great company, great food, pool, shuffleboard, and karaoke. So when we learned of the Post's struggles with their website, it was immediately obvious that we could help.
The result is a brand new site (vfwpost9095.com) featuring an event calendar to help the Post keep folks informed on the goings on. Behind the scenes is a WordPress website management system that makes it easy to keep the website up to date.
At Jackpot, we thrive on enabling organizations to communicate online by breaking down old barriers and leveraging modern tools. If you find your organization in need of a website upgrade contact us online or call 501-247-1009.