Our Solution
A great online presence for any organization requires more than just a pretty website. A great online presence requires important ongoing activities, too.
At Jackpot we know exactly what activities deliver the best results such as winning new business, developing competitive advantages, protecting online reputations and growing social reach — all big wins for small business and the reason we call our packaged services The Royal Flush Solution.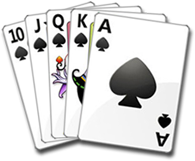 We start by aligning your goals with your website strategy. Then we create a fresh, modern website with the latest and greatest back-end system built from the ground up with your strategic goals in mind.
Websites by Jackpot are more than just beautiful; they're flexible, scalable, and optimized for conversions. But building a great website is just where we begin.
With the Royal Flush Solution we deliver online marketing, content production, social networking and search optimization. All these services are 100% fully managed by Jackpot so that you can focus on what you do best and enjoy the benefits of a winning online presence.
Get a free no obligation consultation. Call 501-247-1009 or contact us here.