The Perfect 10
Friday, 11 May 2012 07:29
Hoyt
The Perfect 10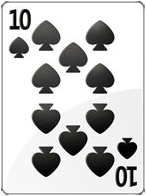 You can't make a Royal Flush without the 10 card, and you can't have a successful online presence without good management.
At Jackpot, we manage the complexities and details for you. More than just a web team, we provide senior management-level services, applying our expertise to make the day-to-day decisions about the operation and promotion of your website.   This allows you the freedom to focus on what you do best.
We report our results, plans and, most importantly, your return on investment each month. Forget the technical jargon. We communicate in business terms from a business perspective so that you always know where you stand.
With Jackpot's management expertise, your winning hand is complete.